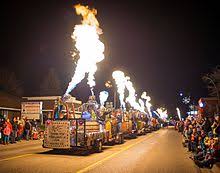 INDEPENDENT SURVEY ABOUT FOWLERVILLE, MICHIGAN
As a Fowlerville resident and local Real Estate Broker, I thought it would be interesting to find out why residents chose to live in Fowlerville. It was refreshing to hear the answers to the survey and the love the residents have for their community.
The photo above is just a peek at the "Christmas in the Ville" parade, an annual event usually hosted the first Saturday in December.
Now for the results! The top 3 answers will be listed in order of most votes. Honorable mentions will be noted for those answers that did not make the top 3, yet were popular among participants.
Q. WHAT DO YOU LIKE BEST ABOUT FOWLERVILLE?
Small Town/Tight community
Friendly residents and merchants
"Phenomenal schools"
Honorable mentions: Rural setting, community library, community park/walking path.
Q. IF YOU COULD CHANGE ANYTHING ABOUT FOWLERVILLE, WHAT WOULD IT BE?
Gas prices to come down in Fowlerville
Stop the growth/keep it small
More downtown small businesses/fill vacant buildings
Honorable mentions: Expansion of transportation for seniors, internet availability, no biker rally at fairgrounds and add a good old fashioned bakery in downtown.
Q. WHY DID YOU CHOOSE TO LIVE IN FOWLERVILLE?
Family roots – "I bleed purple and gold"
Affordable and small community
Rural setting
When asked where you would move to next? Most answered, NOWHERE. With move South a close second.
One participant answered that the best is a small town where everyone helps with your kids, then followed up with "It takes a village, or a 'Ville!"
Results were gathered through a survey questionaire printed and published in the local newspaper, Fowlerville News and Views, as well as solicited phone calls, emails received from participants and on site at Keller Williams Realty Livingston Fowlerville location.
I'd like to thank all of the participants for their time and efforts.
Thanks for reading my blog and as always, all comments and suggestions are welcomed!
Lori Killen, Associate Broker/Realtor
Keller Williams Realty Livingston
(517)294-6977